Developing Tomorrow's Solutions for Improving Cyber Simulations
Created February 2019
The SEI develops software tools to conduct high-quality cyber training. You can use these tools individually to create more robust and realistic environments. Or, if you don't have an existing software suite, you can deploy our entire suite of tools to produce high-end simulations. Either way, the tools we develop can help your organization fill knowledge gaps, assess and evaluate cyber operations, and prepare cyber teams to perform at the highest levels.
Training Challenges
The goal of cyber training using hands-on components is to deliver experiences that are as close to real-world scenarios as possible to prepare cyber teams to respond effectively to new and evolving threats. Creating a simulated environment is important to control training and avoid exposing your "live" networks to malicious traffic.
Simulated environments, however, don't always offer quality training experiences because they might lack details that cyber operators would see in the real world. When training environments aren't realistic enough, the training might fail to give cyber teams the competitive edge they need to succeed when facing real threats.
Tools That Improve Cyber Performance
Using our tools, your organization can produce highly realistic simulations that make training more effective and improve the performance of your cyber teams. Our tools deliver hands-on cyber training using live network nodes, live network traffic, and live attack and defense scenarios. They also use real traffic and effects to put cybersecurity personnel in hands-on situations so they can learn how to carry out real-time responses to cyber events.
To broaden the availability of these tools, the SEI makes many of them freely and publicly available for use by the software engineering community and others. The following list includes descriptions of the software that is currently available:
GHOSTS is a non-player character (NPC) orchestration generator that creates a range of realistic characters who produce network traffic that appears authentic. Visit our digital library to download GHOSTS.
WELLE-D is a wireless traffic transport for wired networks that you can use to create a realistic, virtual wireless network environment. Visit our digital library to download WELLE-D.
vTunnel is a traffic proxy between guest and host networks that allows certain network activity, such as scoring mechanisms, to remain hidden from trainees. Visit our digital library to download vTunnel.
GreyBox is a single-host Internet emulator that delivers the experience of connecting to the real Internet so you can avoid the risks of connecting to live systems in your training environment. Visit our digital library to download GreyBox.
TopGen is a virtualized application service simulator for offline exercise and training networks. Visit our digital library to download TopGen.
TopoMojo is a topology build and management tool that provides users with the same functionality and connectivity they would experience with real, physical devices. Visit our digital library to download TopoMojo.
Foundry is a training asset management portal that organizations can customize to meet unique training needs and that training providers can share content on. Foundry is currently in beta and will be generally available in summer 2019.
December 03, 2018
Technical Report
This report outlines how the GHOSTS ((G)eneral HOSTS) framework helps create realism in cyber-warfare simulations and discusses how it was used in a case study.
read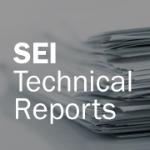 September 29, 2017
Technical Report
Introduces a design framework for cyber warfare exercises. It ensures that in designing team-based exercises, realism is factored into every aspect of the participant experience.
read
September 14, 2016
Video
Adam Welle discusses "Wireless Simulation/WELLE-D."
watch
July 06, 2016
Video
Gabriel Somlo discusses "SEI's Internet in a Box."
watch