The SEI: The Leader in Software Engineering and Cybersecurity
Operated by Carnegie Mellon University, the Software Engineering Institute has been a leader in the fields of software engineering and cybersecurity since 1984. We research and solve complex, long-term problems for the Department of Defense, government agencies, and private industry, and we are always working to transition solutions to the software and systems engineering communities throughout the world.
Latest Publications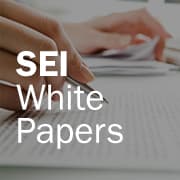 March 07, 2018 • White Paper
This bibliography lists SEI and non-SEI resources that have informed the SEI Product Lines efforts. Examples cover diverse domains and show the kind of improvements you can achieve using a product line approach.
Download
February 13, 2018 • Special Report
The Army Cyber Institute hosted a Cyber Mutual Assistance Workshop to identify challenges in defining cyber requirements for Regional Mutual Assistance Groups.
Download
January 24, 2018 • White Paper
This document describes how to renew the Personal Software Process Developer Certification, including requirements, professional development units, and the activity log.
Download
Research and Capabilities
Learn how we support the defense and information security of the United States by advancing the state of the art and practice in software engineering and cybersecurity. Through our research in seven capability areas, our experts push the boundaries of knowledge from R&D through implementation and operation. We create, test, and apply tools, technologies, and practices to acquire, develop, operate, and sustain software systems that are innovative, trustworthy, and cost effective.
News
March, 16 2018 • Article
Carnegie Mellon University's Software Engineering Institute (SEI) and Heinz College of Information Systems and Public Policy will host the 3rd annual FAIR Conference (FAIRCON18) October 16 – 17 on the CMU campus in Pittsburgh.
Read More
March, 07 2018 • Press Release
The Software & Cyber Smposium's half-day tutorials on March 26 and 28 are being offered free to registrants with .gov or .mil email addresses.
Read More
February, 20 2018 • Article
The SEI has launched an updated version of its website, www.sei.cmu.edu. The new website features improved user experience which includes navigation and organization, streamlined content, and more visual appeal.
Read More
February, 13 2018 • Article
Nominations Sought for 2018 IEEE/SEI Watts S. Humphrey SPA Award
Read More
Education and Outreach
Discover our numerous training and credentialing opportunities for individual professional development. We also offer workforce development and licensing opportunities for organizations to apply best practices to their operations.
Work With Us
In addition to our work with agencies across the United States government, we partner with academic institutions and private companies to solve key technical challenges for current and future software-reliant systems. You can sponsor research and development, collaborate with us on research, and even get guidance from us to implement new methods.
Careers
Pursue your passion and work alongside world-recognized leaders in the field of software engineering. We invite you to view current employment opportunities, learn about benefits of working at the SEI, and apply for a position.