The SEI: The Leader in Software Engineering and Cybersecurity
At the SEI, we research complex software engineering, cybersecurity, and AI engineering problems; create and test innovative technologies; and transition maturing solutions into practice. We have been working with the Department of Defense, government agencies, and private industry since 1984 to help meet mission goals and gain strategic advantage.
Latest Publications
April 08, 2020 • Technical Report
This Technical Report provides guidance to projects interested in implementing DevSecOps (DSO) in defense or other highly regulated environments, including those involving systems of systems.
Download
February 07, 2020 • Technical Report
This report summarizes how to systematically analyze a software architecture with respect to a quality attribute requirement for integrability.
Download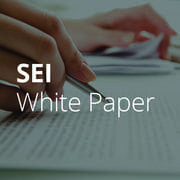 February 04, 2020 • White Paper
Feedback to the U.S. National Institute of Standards and Technology (NIST) about NIST IR 8269, a draft report detailing the proposed taxonomy and terminology of Adversarial Machine Learning (AML).
Download
Research and Capabilities
Learn how we support the defense and information security of the United States by advancing the state of the art and practice in software engineering and cybersecurity. Through our research in seven capability areas, our experts push the boundaries of knowledge from R&D through implementation and operation. We create, test, and apply tools, technologies, and practices to acquire, develop, operate, and sustain software systems that are innovative, trustworthy, and cost effective.
News
June 04, 2020 • Article
The web-based platform enables direct communication between vulnerability stakeholders.
Read More
May 18, 2020 • Article
The pioneering software architect will deliver a webcast on June 2.
Read More
May 04, 2020 • Article
Stay informed through our many online channels.
Read More
April 29, 2020 • Article
The CERT Division's Randy Trzeciak discusses risks and strategies for insider threats during pandemic conditions.
Read More
Education and Outreach
Discover our numerous training and credentialing opportunities for individual professional development. We also offer workforce development and licensing opportunities for organizations to apply best practices to their operations.
Work With Us
In addition to our work with agencies across the United States government, we partner with academic institutions and private companies to solve key technical challenges for current and future software-reliant systems. You can sponsor research and development, collaborate with us on research, and even get guidance from us to implement new methods.
Careers
Pursue your passion and work alongside world-recognized leaders in the field of software engineering. We invite you to view current employment opportunities, learn about benefits of working at the SEI, and apply for a position.