The SEI: The Leader in Software Engineering and Cybersecurity
At the SEI, we research complex software engineering, cybersecurity, and AI engineering problems; create and test innovative technologies; and transition maturing solutions into practice. We have been working with the Department of Defense, government agencies, and private industry since 1984 to help meet mission goals and gain strategic advantage.
Latest Publications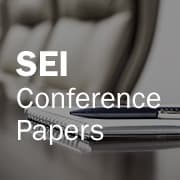 September 27, 2019 • Conference Paper
ACVIP is a compositional, architecture-centric, model-based approach enabling virtual integration analysis in the early phases and throughout the lifecycle to detect and remove defects that currently are not found until integration and test.
Download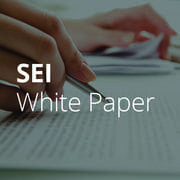 September 12, 2019 • White Paper
This initial set of recommendations can help organizations that are beginning to build, acquire, and integrate artificial intelligence capabilities into business and mission systems.
Download
September 05, 2019 • Technical Report
This report suggests seven key questions that managers and decision makers should ask about machine learning tools to effectively use those tools to solve cybersecurity problems.
Download
Research and Capabilities
Learn how we support the defense and information security of the United States by advancing the state of the art and practice in software engineering and cybersecurity. Through our research in seven capability areas, our experts push the boundaries of knowledge from R&D through implementation and operation. We create, test, and apply tools, technologies, and practices to acquire, develop, operate, and sustain software systems that are innovative, trustworthy, and cost effective.
News
November 07, 2019 • Article
The SEI Architecture Technology User Network (SATURN) 2020 conference has opened its call for technical program submissions.
Read More
November 04, 2019 • Article
SEI staff received the 2019 Information Security Leadership Award, Government, for guiding the Department of Defense on software assurance.
Read More
October 11, 2019 • Article
Two members of the SEI's Software Solutions Division (SSD) have recently been elected to leadership positions in the IEEE Computer Society.
Read More
October 02, 2019 • Article
This month, SEI blog posts and a webinar support the Department of Homeland Security's National Cybersecurity Awareness Month.
Read More
Education and Outreach
Discover our numerous training and credentialing opportunities for individual professional development. We also offer workforce development and licensing opportunities for organizations to apply best practices to their operations.
Work With Us
In addition to our work with agencies across the United States government, we partner with academic institutions and private companies to solve key technical challenges for current and future software-reliant systems. You can sponsor research and development, collaborate with us on research, and even get guidance from us to implement new methods.
Careers
Pursue your passion and work alongside world-recognized leaders in the field of software engineering. We invite you to view current employment opportunities, learn about benefits of working at the SEI, and apply for a position.